Theresa May bows to pro-Brexit pressure to survive parliamentary scare
Comments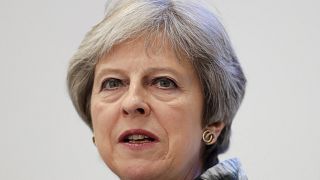 Theresa May has survived a scare in parliament by heading off defeat over key Brexit legislation, but critics accused the prime minister of caving in to Eurosceptic MPs to keep her plans afloat.
Demands by Brexiteers to change the wording of the Customs Bill were accepted, preventing a rebellion by hardliners who want a clean break with the EU following the UK's departure.
The Bill – which deals with the UK's post-Brexit trading arrangements – was passed by 318 votes to 285 in the House of Commons and will now go before the upper house.
However, two amendments were only passed by three votes and a heated, bad-tempered debate provided some of the stormiest scenes the House of Commons has seen in recent years.
May's plan, unveiled to her Cabinet at Chequers recently, aims to negotiate close trading ties with the European Union. But it has come under fire from both wings of the deeply divided ruling Conservative Party, and prompted a string of resignations from the government. Two more ministers resigned on Monday.
Facing defeat over the bill because of opposition from dozens of pro-Brexit MPs, the government agreed to changes, including a clause to toughen conditions over customs arrangements and another to ensure the UK is out of the EU's VAT system. A further amendment would enshrine in law a commitment to avoid a customs border between Northern Ireland and the rest of the UK.
Brexit hardliners argue they are simply enforcing the 2016 referendum result and May's subsequent "red lines" laid down for the talks.
But furious pro-EU MPs accused the government of running scared of a hardcore minority of Brexiteers. They fear the changes will make May's plan – which is only a starting point for the next phase of negotiations with the EU - less acceptable to Brussels.
Many pro-Europeans also oppose the plan as a poor substitute for EU membership, and calls are growing for a second referendum amid increasing parliamentary gridlock.
A spokesman for the prime minister said the amendments were "consistent" with the White Paper policy document which developed the Chequers plan. However, a further test lies ahead immediately when MPs debate a trade bill on Tuesday.
With her Conservative Party at war with itself over Brexit, Theresa May has little room for manoeuvre and her government's position in Parliament is precarious. The pressure is compounded by the need to agree a withdrawal deal with the EU by the autumn.
Amid increasing talk of a challenge to her leadership, May is expected to ask MPs to bring forward the start of the summer parliamentary break to this coming Thursday instead of Tuesday next week.
The UK is set to leave the EU at the end of March 2019.