Trump says 'no reason' to believe Russia hacked US election
Comments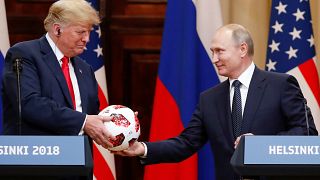 Copyright

REUTERS/Grigory Dukor
US President Donald Trump said he sees no reason to believe that Moscow hacked the 2016 US presidential election to help him win, adding that Russian President Vladimir Putin "was extremely strong and powerful in his denial".
His comments contradict US intelligence agencies' reports that Russia was behind an effort to interfere in the election.
Putin repeated that Russia had never interfered in US affairs.
The pair made the comments at a press conference in Helsinki, which followed face-to-face talks on Monday.
Before the talks, Trump blamed his country for the deterioration of relations, which he described in a Tweet as having "never been worse thanks to many years of US foolishness."
The Russian Foreign Ministry replied: "We agree."
Asked at the press conference if Russia was at all to blame for the poor ties, he said: "I hold both countries responsible. I think the US has been foolish. We've all been foolish."
When questioned on whether Putin was an adversary, he replied: "Actually I called him a competitor and a good competitor he is and I think the word competitor is a compliment."
The US president later took to Twitter to claridy the remarks.
"As I said today and many times before, 'I have GREAT confidence in MY intelligence people.' However, I also recognize that in order to build a brighter future, we cannot exclusively focus on the past – as the world's two largest nuclear powers, we must get along!" he wrote.
Reactions
Following the press conference, numerous US politicians issued statements criticising Trump for his remarks.
Daniel Coats
US director of National Intelligence Daniel Coats said: "We have been clear in our assessments of Russian meddling in the 2016 election."
In a statement, he said the US intelligence community has been clear about Russia's "ongoing, pervasive efforts to undermine our democracy."
Ted Lieu
US Representative Ted Lieu issued a statement describing what Trump did as "utterly shameful, and a slap in the face to the professionals in the Department of Justice and our intelligence community."
"Today we watched a US President offer total deference to a hostile foreign power while attacking U.S. institutions. By refusing to admit that Russia attacked our Democracy, or that Russia did anything wrong whatsoever, Trump is disturbingly regurgitating the Kremlin's talking points."
Bob Corker
The Republican head of the US Senate Foreign Relations Committee Bob Corker said Trump's comments at a joint news conference with Putin made the United States look like a "pushover."
"When he had the opportunity to defend our intelligence agencies who work for him, I was very disappointed and saddened with the equivalency that he gave between them and what Putin was saying," Corker told CNN.
"The president's comments made us look as a nation more like a pushover and I was disappointed in that, " Corker said.
Paul Ryan
US House Speaker Paul Ryan, following Trump's remarks on Russia on Monday, said there was "no question" that Moscow interfered in the U.S. 2016 election and that Trump "must appreciate that Russia is not our ally."
"There is no moral equivalence between the United States and Russia, which remains hostile to our most basic values and ideals.
"The United States must be focused on holding Russia accountable and putting an end to its vile attacks on democracy," Ryan said in a statement.
Adam Schiff
The top Democrat on the US House of Representatives intelligence panel said Trump's comments gave Putin permission to interfere in November's midterm election.
"President Trump just attacked our intelligence agencies and law enforcement for doing their jobs while standing next to a dictator who intervened in our election to help elect Trump," he said on Twitter.
"Putin will take this as a green light to interfere in 2018, and it is. Cowardly and shameful."
Lindsey Graham
US Senator Lindsey Graham, a senior Republican and member of the Senate Armed Services Committee, on Monday said Trump's performance will send Moscow a message of US "weakness."
Jeff Flake
Republican senator Jeff Flake says Trump blaming the US for Russian aggression is "shameful".
Elizabeth Warren
Democrat senator Elizabeth Warren said Trump had embarassed the US.
Joe Kennedy III
Democratic Congressman Joe Kennedy III said Trump had "sold out our security, democracy and credibility — to an adversary who continues to attack our nation and undermine our values."