Croatia World Cup team get hero's welcome in Zagreb
Comments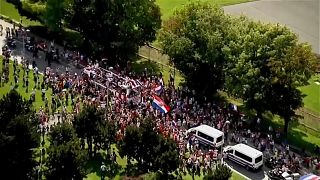 Croatia's national football team arrived back in Zagreb on Monday after their run all the way to the final of the World Cup in Moscow.
From the moment the team landed, the celebration was broadcast live on national television.
The team rode an open-topped bus through streets swamped with thousands of cheering fans.
But after a four-hour ride the bus was stranded a kilometre from Zagreb's central square as it couldn't get through the crowds.
The team lost 4-2 to France but it was Croatia's best-ever world cup result.
"They lost the final, but won the world," read the headline in a local newspaper.