Trump calls European Union a"foe" of the USA on trade
Comments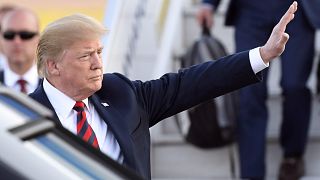 US President Donald Trump left the UK on Sunday headed for Helsinki and a summit with President Vladimir Putin, but not before causing more controversy.
In an interview with US television he called the European Union a "foe" of the United States on trade.
"Well I think we have a lot of foes. I think the European Union is a foe, what they do to us in trade. Now, you wouldn't think of the European Union but they're a foe. Russia is a foe in certain respects. China is a foe economically, certainly, they're a foe." - President Donald Trump
Trump added that the countries had taken full advantage of the US.
His comments drew a quick response from EU Council President Donald Tusk who said on Twitter that "America and the EU are the best of friends and anyone calling the EU foes was spreading "fake news".
Trump has previously accused the EU of treating the US unfairly and has recently slapped tariffs on steel and aluminium imports from the EU, which has responded with retaliatory measures.