Chemical explosion 'kills 19 and injures 12' say state media
Comments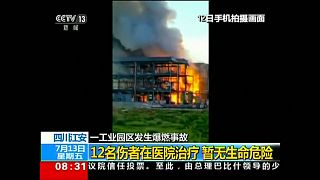 An explosion at a chemical plant in China has killed 19 people and injured 12 according to state media.
It's not yet clear what caused the explosion at Yibin Hengda Technology in an industrial park several hours southeast of Chengdu, the capital of the southwestern province of Sichuan, according to authorities in Jiang'an county.
Footage from China's state television channel CCTV shows a huge fire and plumes of smoke rising from the facility.
Local government say the injured are in a stable condition and an investigation into the incident has begun.
China has kicked off measures to improve industrial safety, ramping up checks over the last year, following some high-profile incidents at coal mines and chemical plants.