Violence and drink-fuelled bravado sees ambulance call-outs 'rise after England defeat'
Comments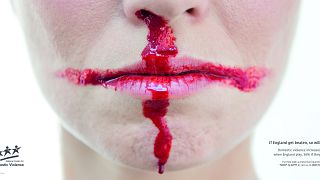 Emergency call-outs rose in the immediate hours after England's semi-final exit to Croatia, ambulance chiefs say.
They claim there were assaults, intoxicated people falling over and "drink-fuelled cases of bravado leading to injuries" in their part of central England.
There was also a number of cases of domestic violence, said West Midlands Ambulance Service (WMAS).
It comes after campaigners warned there was a close link between football and attacks at home.
Incidents increase by 38% if England are defeated, claims the National Centre for Domestic Violence, who commissioned a special artwork (above) to highlight the issue. The stats appear to refer to a 2013 study that examined reports of domestic abuse in Lancashire county during the World Cup years of 2002, 2006 and 2010. 
WMAS said they received 1,100 emergency calls between 21.30 BST on Wednesday and 4.30 BST today (Thursday), a rise of 15% compared with the same period last week, when there were no World Cup fixtures.
"Almost immediately after the final whistle, the phone lines lit up," said Nathan Hudson, WMAS' assistant chief ambulance officer.
London also saw an increase in emergency requests, including calls for fights outside pubs and someone who had fallen after climbing a lamppost.