Fans follow suit to salute Southgate ahead of England's World Cup semi-final
Comments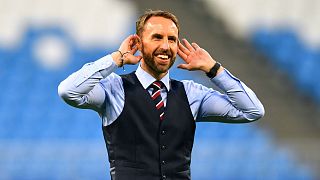 Supporters are dressing to impress in a bid to get behind manager Gareth Southgate and his England team ahead of Wednesday's semi-final with Croatia.
Southgate — whose stock has risen as England have impressed in Russia — has been wearing a trademark waistcoat throughout the World Cup.
Supporters are now copying the fashion trailblazer and posting pictures of themselves on social media using the hashtag #WaistcoatWednesday.
Southgate's success has seen sales of waistcoats soar in Britain since the start of the World Cup last month, according to one retailer.
"Gareth's sideline style has meant our waistcoats are really scoring with our customers, with sales doubling since the World Cup began," said a spokeswoman for Marks & Spencer.
The surge of support for Southgate is a remarkable turnaround from the mid-1990s when he was ridiculed for missing a decisive penalty in England's semi-final shootout defeat to Germany at the 1996 European Championships.
The initial hashtag that gained popularity on Twitter, #WaistcoastWednesday, had a spelling error, but this was later corrected.