This Italian widower goes to the sea every morning with a framed picture of his late wife
Comments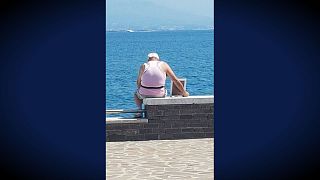 A moving photo of an elderly man who sits by the sea every morning with a framed picture of his late wife has gone viral in Italy.
The picture also appeared to have touched Interior Minister Matteo Salvini, who tweeted three love hearts beside a link to the image on Twitter.
The photo, which was snapped in the city of Gaeta in central Italy, was first posted on Facebook by Georgio Moffa on July 1. It has since racked up almost 7,000 views and 4,000 shares.
Talking to Euronews, Moffa identified the elderly man as 70-year-old Giuseppe Giordano, whose wife, Ida, died seven years ago.
"The picture was taken in front of my restaurant in Gaeta," he said.
"In that gesture, full of love and sadness, I envisaged the lives of many who have lost loved ones. And I know something about it having lost a 5-month-old son and two young brothers myself."
According to Vanity Fair Italia, Giordano met Ida when he was 16 and she 17. Ida eventually fell pregnant and the couple married against their parents' wishes in 1969 when having a child out of wedlock was still a scandal.
The pair then enjoyed a long, quiet life together until 2011, when Ida fell ill and passed away.
"He can't stand to be without her," the magazine reported, "and with that framed photo, he takes her everywhere and keeps her close as his most precious thing".