Kylian Mbappé, the ace in France's pack
Comments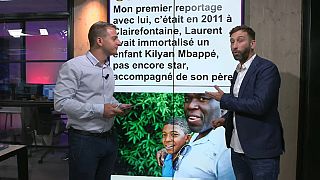 Euronews talked to Cyril Collot, the co-author of "Mbappé, le Petit Prince" about the young and extremely talented player who's being described as France's "ace in the pack."
Euronews: "With the semi-finals approaching, we're focusing on one of the revelations of the FIFA World Cup, 19 year old Kylian Mbappé. To talk about him, I am joined by Cyril Collot, journalist and co-author of "Mbappé, le Petit Prince."
You are the author of a biography of the French forward, "Mbappé, le Petit P:rince". You know him well, are you surprised by how he is doing in the World Cup?"
Collot: "I am not, actually I was expecting him a little bit earlier, during the group phase, even if he scored against Peru. But it's true that the game he played against Argentina in the quarter finals simply burnt the screens. He was fantastic with two goals and a ride that led to the Griezmann penalty.
Euronews: "It was not long ago and he was just a child. You say in your book that people would have already paid to see him play. That's a thing, but a few years later, he scores in the knock-out stages of a world cup. How could he handle such a rise?"
Collot: "His first coach told me that since that picture, he was thirteen, he hasn't changed. He is a player that answers the call in the big competitions. It was the case in Bondy, his first club, as well as in Monaco, then with the French junior team, and he shows it again during his first World Cup."
Euronews: France v Belgium now, will it mark the reunion between him and Kevin De Bruyne? The Belgian player said last year that he did not know Kylian Mbappé. Now he must know him, right?
Collot: "He does, but it's true that in 2017, Kylian was unknown to the public, before the semi finals of the Champions League, between Manchester city and AS Monaco. Since that game, everything changed and he became a real international star."
Euronews: "Belgium has knocked out the Brazil of Neymar and Coutinho. Will they apply the same formula to beat Griezmann and Mbappé's France?"
Collot: "Well, the Belgians will certainly have to concede on fewer occasions, as they conceded too much against the Brazilians. France is one of the most realistic teams in this World Cup, with Griezmann and Mbappé, and they might have some problems."