How local artists are decorating Facebook's walls
Comments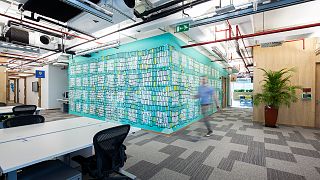 With more than 27,000 employees and 55 offices worldwide, Facebook is constantly seeking emerging artists to decorate its walls and office furnishings.
This hunt for creative and artistic individuals is part of Facebook's Artist in Residence Program, aslo known as FB AIR. The initiative was founded in 2012 by artist and curator Drew Bennett, who is passionate about promoting new talent around the world.
Drew Bennett, founder of Facebook's Artist in Residence Program
"It's always local artists working in the local offices alongside the employees," says Bennet, who conducts extensive research with his team to find artists born and bred in their city of residence.
"That's really important for us because it's showing the Facebook community, the neighbours of the city that they're working in," he adds.
In the spirit of Facebook's origins as a "hacker culture community" as Bennett puts it, artists have complete freedom to create their own projects. The curator encourages the young talents to "imaginate," anywhere in the office space - including Mark Zuckerberg's desk, which one artist has masterfully accomplished.
Eman Al Hashemi is the first artist to decorate the walls of Facebook's Dubai bureau
One of the main social media offices in the MENA region, Facebook's Dubai bureau, features the graphic work of local artist Eman Al Hashemi. She is the first Arab and Emirati visual creator to receive a commission to emblazon the walls of the Silicon Valley giant's regional office.
Graphic designer Aniruddh Mehta works on a mural at Facebook's India office in Guragon
The good news for local artists is that Bennett and his team are increasingly looking to bring new designs all the way to Facebook's headquarters.
"We think that the dialogue of the world views through art is a really valuable quality in our programming," he explains.
Artist Tosha Stimage decorates the walls of Facebook's headquarters
Read more from Inspire Middle East:Is Baghdad becoming a new hotspot for young entrepreneurs?
Social eyes: A splash of colour on the walls of MENA startups
Amr from Egypt took this picture with his wife Lana, who drew an elaborate chalk wall mural at the startup company where they used to work.
Dina from Jordan uploaded this happy snap of her in the colourful surroundings of an office that she says helps her feel positive and motivated.
Hady from Cairo shared a photo of he and his colleague hard at work in the successful software startup company where they work.