American dad gets St George's cross pedicure after England's World Cup win over Colombia
Comments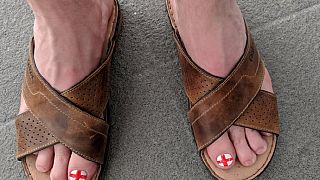 A father from Seattle, Washington, was pressured into getting the English flag painted onto his toenails by his half-British daughter following the country's Round of 16 World Cup win over Colombia on Tuesday.
James Whittaker shared images of his St George's Cross-inspired pedicure to his Twitter account, with the hashtag "#shitthathappenswhenenglandwin."
According to his tweet, his daughter told him she would "take him out" if England won the match.
Apparently out meant out to the salon — the photos show her receiving an English flag manicure, while her dad has his feet seen to with a matching pedicure.