Best reactions to England's historic World Cup penalty victory
Comments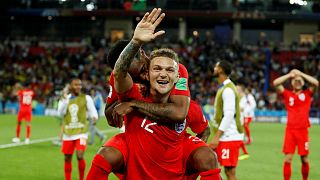 England fans have been celebrating their team's dramatic victory over Colombia in a penalty shootout, marking the first time they have won a World Cup knockout match in 12 years.
Fans — from football pundits to Prince William — celebrated the news, with many taking to social media to share their reaction to England advancing to the quarter-final match against Sweden.
Here's a look at some of the best reactions to the win.
Penalty victory met with cheers
Fans watching the match on big screens in England erupted in cheers as Eric Dier scored the final penalty, confirming his country's place in the last eight of the tournament.
Traffic blocked
Video footage showed traffic in London's Shoreditch High Street brought to a standstill by jubilant groups of fans.
'It's coming home'
English comedians David Baddiel and Frank Skinner, whose song "Three Lions" with the band The Lightning Seeds has become an anthem for England fans, celebrated the news, saying "it's just about still coming home."
Many England supporters joined them, using hashtags #ItsComingHome and #FootballsComingHomeAgain along with videos of their celebrations.
Royal reaction
Prince William was quick to congratulate the England team via Kensington Palace's Twitter account.
Pundits rejoice
Former footballers Gary Neville, Ian Wright and Lee Dixon were captured on camera celebrating the final goal.
Players react
England players also took to social media to share their reactions to the win.