Redoine Faid and six more of Europe's most-audacious prison breaks
Comments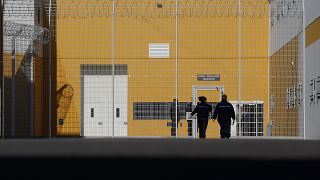 Copyright

REUTERS/Christian Hartmann/File Photo
Police in France are searching for notorious gangster Redoine Faid after he escaped from a prison in the Paris region on Sunday with the help of a helicopter and some armed accomplices.
Two gunmen disembarked from the helicopter in the prison courtyard, using smoke bombs and angle-grinders to break into the visitors' room, where Faid was meeting his brother.
The trio then escaped via the helicopter, where a third gunman was waiting along with the pilot, who had been taken hostage.
The pilot was later released and taken to hospital suffering from shock.
Faid, one of France's most infamous gangsters, was serving a 25-year sentence for a botched armed robbery that led to the death of a policewoman in 2010.
It was not the first time he had escaped from jail.
In 2013, Faid took four prison guards hostage before using dynamite to blow his way out of jail and fleeing in a waiting getaway car.
He was on the run for six weeks before police captured him in a hotel with an accomplice.
But he is not the only European prisoner to attempt a breakout.
Here are six more of the most daring, violent or unbelievable attempts.
1. Frequent flyer | France
Faid is not the only French criminal to have used a helicopter to break out of prison.
French murderer Pascal Payet gained notoriety for a series of prison escapes using hijacked helicopters.
Payet first escaped from a prison in the village of Luynes in 2001 via helicopter, and two years later helped friends to breakout of the jail in the same way.
The criminal was caught and sentenced to 30 years in prison for murder in 2005.
However, he managed a third airborne departure during France's Bastille Day celebrations in 2007, jumping into a hijacked helicopter flown by four masked men.
He was caught months later near Barcelona and transferred to a secret location.
2. The one that got away | Greece
Greece's notorious convict, Vassilis Palaiokostas, has also used helicopters in two separate prison breakouts.
The serial armed robber and kidnapper escaped from the maximum-security Korydallos prison in 2006 in an operation that saw a hijacked helicopter land in the facility's central yard during exercise time.
Unsuspecting guards failed to react because they thought it was a visit by prison inspectors.
He was captured in 2008, but just days before his trial for the escape, he broke out of the same prison again.
On the second occasion, a helicopter landed on the roof of Korydallos prison and dropped a rope ladder for Palaiokostas and his Albanian sidekick Alket Rizai.
Palaiokostas remains on Europol's "Most Wanted" list.
3. Nectarine grenades | France
Michael Vaujour was serving a lengthy prison sentence for attempted murder and armed robbery when his wife helped him to escape in 1986.
Vaujour apparently made his way to the roof of the Parisian prison by wielding a fake pistol and nectarines painted as grenades.
His wife — who had been taking helicopter flying lessons for the occasion — picked him up and whisked him away.
Nadine Vaujour was later arrested in southwestern France, while Michael was shot dead during a failed bank robbery.
4. Hepatitis breakout | Italy
Notorious Italian mobster Renato Vallanzasca escaped from prison in 1976 by voluntarily contracting Hepatitis.
Vallanzasca claims he managed to do so by eating rotten eggs, injecting urine into his bloodstream and inhaling propane gas.
When he became unwell, he was transferred to a hospital, where he managed to escape the policeman on guard.
He was arrested again in February 1977.
A decade later, Vallanzasca escaped from a pothole of a ferry that was taking him to the prison of Asinara, Sardinia. He was recaptured a few days later at a checkpoint.
5. Key to freedom | UK
Parkhurst prison, built on the Isle of Wight, was billed as the UK's answer to Alcatraz. But three inmates meticulously planned a way out.
In January 1995, Matthew Williams, Keith Rose, and Andrew Rodger managed to escape using a key they had cut themselves.
The trio used the key to open a series of doors before cutting a mesh fence and climbing a wall.
They then took a taxi to the town of Sandown, where they spent four days attempting to steal a plane or boat before being caught by an off-duty police officer.
6. Lemon juice letters | UK
Years later, in June 2010, murderer Brian Lawrence attempted to break out of Parkhurst using helicopter flights at the Isle of Wight music festival as cover.
Lawrence communicated with his accomplices using lemon juice as invisible ink and codes hidden in sudoku puzzles.
In his messages, he drew maps and gave encrypted instructions for his plan to bring a helicopter into part of the facility not protected by nets.
However, the plot was foiled when prison guards spotted the phrase "more heat, less light" in one of his letters, which indicated how his "invisible" messages could be read.