Last-ditch talks to resolve German political crisis
Comments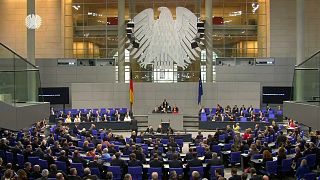 The leaders of Germany's three coalition parties are meeting on Monday night to try to resolve the crisis over migrant policy that's threatening Chancellor Angela Merkel's government.
It comes amid increasing frustration over the row between Merkel's Christian Democrats and Bavaria's Christian Social Union, the CSU
The Labour Minister, Hubertus Heil, of the Social Democrats (SPD) said: ''One can only remind everyone that it's not a question of a small-minded advantage or feelings. The future of the country is at stake."
The political crisis is the latest sign of the divide across the EU on how to handle migrants.
Christian Lindner, leader of the liberal Free Democratic Party of Germany, called on all parties to work to find a solution.
"We should convene a #Migration Summit of federal, state and local governments and all governmental parties,'' he said on Twitter. ''A longer-term consensus on the management of the refugee crisis would have to be found there."
If the row is not resolved, the CDU-CSU alliance may break up, robbing Merkel of her parliamentary majority.
She could try to form a minority government, or seek a new election.