Germany's interior minister threatens to resign, putting more pressure on Chancellor Merkel
Comments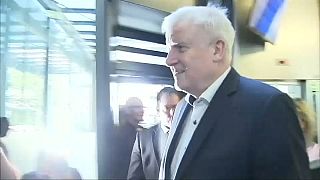 German Chancellor Angela Merkel on Monday will make a last-ditch effort to end a migration row with her conservative allies by holding more talks with her interior minister, whose offer to resign cast doubt over whether her fragile government can survive.
Horst Seehofer offered to quit his ministerial post and the chairmanship of the Bavarian Christian Social Union (CSU) at a marathon party meeting on Sunday to discuss whether immigration proposals Merkel brought back from Brussels last week were acceptable.
But he was then persuaded by party colleagues to have one more meeting with Merkel on Monday to try to resolve the long-standing row and said he would make his final decision within three days.
It makes the future of Merkel's government even more uncertain, since her Christian Democrats party relies on the Bavarian conservative CSU to maintain power.
The coalition was only formed three months ago ending a political vacuum which had existsed since last years September election.
Last week Seehofer threatened to turn asylum seekers away from Germany's borders unless Merkel reached an acceptable deal with other EU partners.
On Monday Bavaria's premier Markus Soeder said the state does not want to risk the stability of the German government, suggesting a compromise might be forged.