Froome cleared of doping charges
Comments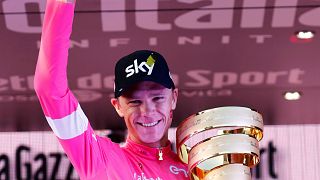 Defending champion Chris Froome has been cleared of doping charges, days before the Tour de France begins. The Team Sky Rider had tested positive for twice the allowed amount of asthma drug Salbutamol in September.
In a press statement issued this morning, the UCI confirmed that the case against Froome had now been closed adding that it hoped the "cycling world could now turn its focus to, and enjoy, the upcominc races".
The team principal -  Sir Dave Brailsford -  tweeted from the official Team Sky twitter account to say he was pleased with the outcome and "had total confidence in Chris and his integrity."
In a later Tweet, Chris himself said he was grateful and relieved to finally put the chapter behind him. He called the ordeal an "emotional 9 months".
According to reports, the Tour de France organisers wanted to block Froome from racing while the case was ongoing.
With the case resolved, the 33-year-old said he is now looking forward to attempting to win a fifth Tour de France.