Voting under way in Mexico election
Comments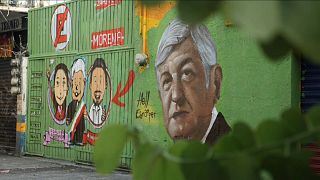 Mexicans have begun voting for a new president in an election that could sharpen divisions with US President Donald Trump over migration and trade.
Former Mexico City Mayor Andres Manuel Lopez Obrador is leading in the opinion polls.
If elected, he would be the first left-winger in decades to become president.
His rivals come from the two parties that have ruled Mexico for decades.
Ricardo Anaya, the one-time leader of the centre-right National Action Party, heads a right-left alliance.
The other is Jose Antonio Meade, a former finance minister who is the candidate of the ruling centrist Institutional Revolutionary Party.
The election campaign has been the bloodiest in recent history with more than 130 candidates and their staff murdered since September.
In all, more than 80 million people are eligible to vote.
They'll also be voting for 128 senators and 500 deputies in Congress as well as state and local officials.