Great White shark spotted off Spanish coast
Comments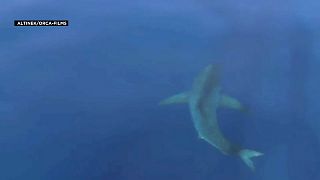 A great white shark has been spotted off the Spanish coast for the first time in at least 30 years.
The Alnitak-Conservation in Action group saw the 5-meter-long fish as it swam across Cabrera archipelago national park on Thursday morning. Cabrera is an uninhabited island just south of Mallorca in Spain's Balearic Islands.
The shark measuring five metres (16.5ft) in length was filmed around 10 am on Thursday morning by the team led by marine biologist Ricardo Sagarminaga van Buiten. The image was later uploaded onto the Facebook page of the Alnitak expedition 2018.
The last recorded capture of a great white in the area was in 1976.
Great whites can weight up to two tonnes, reach lengths of six metres, swim at up to 40kph.