NGO boats to be blocked 'all summer' from Italian ports
Comments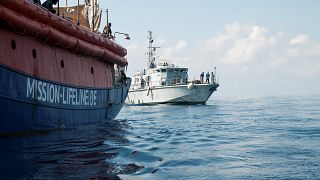 NGO rescue boats carrying migrants will not be allowed to dock in Italy "all summer," the Italian Interior Minister Matteo Salvini said.
Speaking to an Italian radio station on Friday, the rightwing League party leader said: "the ports will be closed all summer" to NGOs transporting migrants and the ban would include "the furnishing of fuel" to their vessels.
In a Facebook post tagged #closetheports, Salvini doubled-down on the move on Saturday, writing in a post: "Halt the mafia of human trafficking: the fewer that depart, the fewer will perish."
His declaration came hours after an EU migration summit had wrapped in Brussels, where EU leaders agreed to open control centres for migrants who make it to Europe. There, the European Council president called on NGOs to stop undermining local efforts being made in Libya to rescue migrants and return them to the North African coast.
"We have sent a clear message to all vessels, including those of NGO's operating in the Mediterranean, that they must respect the law and must not obstruct the operation of the Libyan coastguard," said Donald Tusk.
Italy's Interior Minister has often accused the NGOs of encouraging the trafficking of migrants.
Italy turned away yet another migrant rescue boat on Friday, their third refusal this month. Salvini justified denying the vessel on the grounds that it was a danger to public order. The ship was being steered by Spanish charity Proactiva Open Arms but was not carrying any migrants.
The country also sparked an international crisis earlier in June when it turned away a migrant boat carrying over 600 refugees from Libya. Italy said the vessel should have docked in Malta, who also refused the vessel. The Aquarius ship, operated by NGO Doctors Without Borders (Médecins Sans Frontières), was eventually allowed to dock in Spain after spending days in limbo.
Another NGO rescue boat, Lifeline, which carried some 230 migrants, was also forced to dock in Malta on Thursday after it was rejected by Italy.