Volcanic ash cloud forces closure of Bali airport
Comments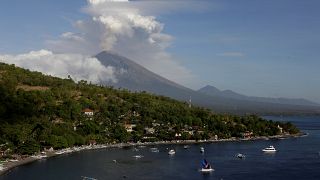 The Indonesian tourist island of Bali closed its international airport on Friday, stranding thousands of travellers, as the Mount Agung volcano gushed a 2,500-metre column of ash and smoke.
The National Disaster Mitigation Agency said nearly 450 flights were cancelled, affecting 75,000 people.
The volcano began gushing smoke on Thursday.
Its alert level has not been raised and an exclusion zone around the crater remains at four kilometres (2.5 miles).
The regional volcanic ash advisory centre in Darwin, Australia, said winds could carry the ash southwest toward Java, Indonesia's most densely populated island.
Volcanic ash is a potentially deadly threat to aircraft that can cause engines to "flame out".
Agung, about 70 kilometres (45 miles) northeast of Bali's tourist hotspot of Kuta, last had a major eruption in 1963, killing about 1,100 people.
It had a dramatic increase in activity last year, forcing the evacuation of tens of thousands of people, but had quietened by early this year.