Spanish fan in tears after FIFA bans his famous drum from World Cup
Comments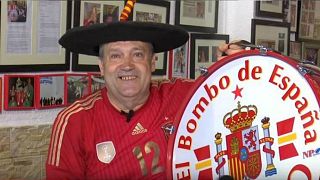 A Spanish football superfan is in tears after FIFA banned him from bringing his famous bass drum, "El bombo de España" (The drum of Spain), into matches.
Manolo el del Bombo has been following the Spanish national team for more than 40 years with his drum. But he is now inconsolable after FIFA banned him from entering the stadium with his "bombo" in Spain's last two World Cup matches
"I'm very sad," Manolo told Euronews in tears. "I'm sorry, but I'm very emotional when I talk about this."
The Superfan said that in Spain's first match against Portugal there were no issues. He finds it difficult to understand why he has not been allowed to bring his drum this time.
FIFA regulations in Russia prohibit fans from entering the stadiums with noisy instruments.
"I have been to 10 World Cup matches, and the only World Cup of the 10 that they have not let me enter is the Russian (World Cup)."
Manolo has called on the Spanish government to help his cause: "I have asked for help from Spain's government, the Kings, the whole world (...) I have never caused any problems, they know me. FIFA knows me. "
He is, without a doubt, Spain's most famous and well-known supporter. The 69-year-old has a website and his own bar in Valencia that doubles as a football museum. The Spanish Football Federation also supports him and pays for his travel, accommodation, and match tickets.
The fan said that going to the Russia World Cup has been an excellent experience. That was until the issues with his drum started. Manolo is hoping there will be a solution, and that if none is found, he will always remember it as a terrible World Cup.