Natives in Western countries overestimate number of immigrants: survey
Comments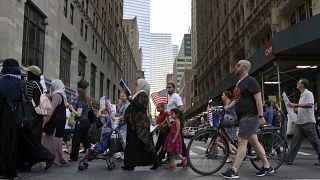 Natives in six developed nations overestimate the number of legal immigrants — especially Muslim ones — in their countries, a new survey has found.
A report released Thursday and conducted in France, Germany, Italy, Sweden, the UK and US found "strikingly large biases in natives' perceptions of the number and characteristics of immigrants."
Respondents in the US estimated that immigrants made up 36% of the population, though they only represent 10% of the countries' inhabitants. Italians believed immigrants represent 26% of the population, when they amount to 10%. Swedish respondents were found to be the most accurate, estimating that 27% of the population were immigrants. Still, the actual number is 17.6%.
Immigrants were defined as somebody legally living in the country of the respondent, but born abroad. The survey did not take illegal immigrants into consideration.
A majority of the 22,500 respondents think immigrants are culturally and religiously distant from them and that they are economically weaker — less educated, more unemployed, poorer and thus more reliant on government — than is the case.
Muslim immigrants
"Respondents starkly overestimate the share of Muslim immigrants, immigrants from the Middle East and North Africa and strongly underestimate the share of Christian immigrants," the report noted.
Sweden and the US respectively estimated that 45% and 23% of immigrants are Muslims, when the actual numbers are 27% and 10%.
The UK, Italy and Germany overestimate the share of Muslim immigrants by between 10 to 14 percentage points.
In contrast, in all countries, the share of Christian immigrants is underestimated by at least 20 percentage points "and often by much more."
Disproportionally benefit
"All these misperceptions contribute to making natives more averse to redistribution, as they perceive that immigrants are culturally and religiously more distinct from them and that they benefit disproportionately from the generosity of the welfare state," the report explained.
Some 20% of respondents in the US, Italy and Sweden, and 25% in France, believe for instance that immigrants receive more than twice as many benefits as natives.
The report's authors — Alberto Alesina, Armando Miano and Stephanie Stantcheva — also highlighted that these "stark misperceptions" hold across all groups of respondents, whether they were split by income, age, gender, education, political affiliation or sector of work.
They noted, however, that the largest misperceptions came from low-skilled workers in sectors more exposed to immigrants as well as non-college educated, right-wing respondents, and women respondents.