German fans forlorn after crashing out of World Cup
Comments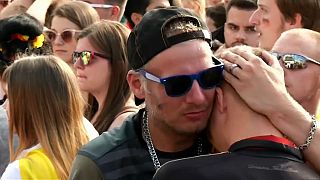 After a restless night of what-ifs, Germany's fallen champions are returning home.
After losing two nil to South Korea the recriminations are just beginning.
Rather than providing another fairy tale World Cup ending, Russia 2018 has embarrased the nation, delivering their earliest World Cup exit in 80 years.
The search for the culprit has dominated the headlines with the coach Joachim Loew taking much of the flak.
The complacent German Football Association promoted the team with a tournament slogan of "the Best Never Rest."
But the football association's accountants may have breathed a sigh of relief.
They no longer have to worry about paying each of the team's 23 players 350,000 euros had they won.
And if she's at all superstitious the loss may also come to haunt Germany's leader Angela Merkel who is fighting for her political life at an EU summit focused on migration.