Upset in Germany as team head home from Russia
Comments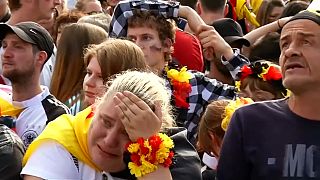 There was complete disbelief from German fans as they watched South Korea push their team out of the World Cup.
At a public viewing area in Berlin, thousands of football supporters sobbed in absolute shock that their team will now head home from Russia.
German fan, Blaess says, "It was really bad and they deserved to crash out. The preparation was really bad this time. I hope they will learn the lesson to prepare themselves better next time. Like this they deserve to be out and I say this as a German fan."
German fans, Julius and Felix say, "They didn't make use of their chances. I have filmed every chance. I have filmed so many, but nothing came out of it unfortunately."
Crying Janin Roethig says, "The team didn't fight, not even after the first goal, a bad match."
The last time Germany was eliminated from the First Round at the World Cup was in 1938.
But this is the first time for them, when the First Round has been in a group stage format.