Serbia to face the might of Brazil in Group E match
Comments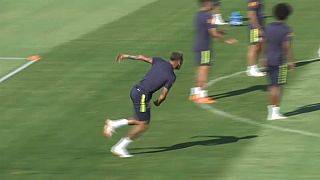 Brazil and Switzerland lead Group E with four points each - up next for the fives time World Cup winners is Serbia at Moscow's Spartak stadium on Wednesday night.
No one would be surprised if they beat the Balkan team and they only need to gain one point to guarantee a place in the knockout stage.
But they're missing Douglas Costa and Danilo who've both sustained injuries.
Serbia must beat Brazil to qualify for the last 16; if they draw it would leave them relying on Costa Rica to comfortably beat Switzerland.
But the team has been distracted after two ethnic Albanian players, Granit Xhaka and Xherdan Shaqiri who play for Switzerland, made double eagle gestures in reference to the Albania flag.
In the 1990s Serbia brutally suppressed its Albanian population before NATO intervened.
Both players scored in Switzerland's 2-1 victory over Serbia in Kaliningrad.