Firefighters battle moorland blaze in Greater Manchester
Comments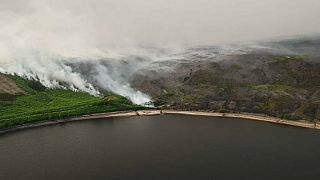 More than thirty homes have been evacuated near Greater Manchester as firefighters continue to battle a blaze in the hills of Saddleworth Moor.
The Greater Manchester Police have declared the blaze a major incident as the fire has continued to spread since Sunday night.
Leon Parkes (Greater Manchester Fire and Rescue spokesperson) said ''We decided to call a major incident and by calling a major incident that's kind of the trigger points which brings more multi-agencies together to talk about how best to deal with the situation collectively.
The major incident will stay in place for the time being. but that doesn't mean the fire is any worse, it just means that we want to continue to work with partners to deal with the situation."
The smoke from the blaze is visible from thirteen kilometres away. Schools were closed on Wednesday and residents have been told to stay indoors.
Police have yet to establish to cause of the blaze.