Germany take on South Korea in their Group F match
Comments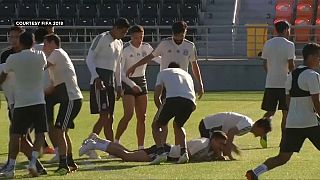 Germany will take on South Korea in Kazan in their Group F match on Wednesday for a place in the last sixteen.
Germany famously beat Brazil in Rio in the 2014 World Cup and are widely expected to win.
But their coach Joachim Loew says he's concerned about the speed of some of their players.
"South Korea run earlier, want to win the ball midfield and have three or four players who are very fast and very good in counter attacks. For us it's an important task to try to prevent that.''
And Mexico take on Sweden in Yekaterinberg in their Group F match.
"This has become the group of death," Javier Hernández said on Tuesday - because if they lose they'll be out.
Former Sweden international Anders "Taco" Svensson has vowed to give up the favourite food that gave him his nickname if Mexico wins.
"I've bunkered up with some Mexican grub, and it's the last time I'll eat it if Mexico knock Sweden out," he said in a video posted online.