How Greece's PM celebrated European debt relief package
Comments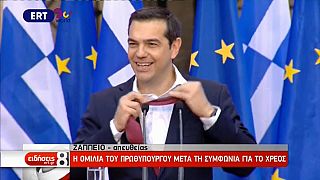 Greece's Prime Minister has welcomed the decision by eurozone creditors to offer debt relief - and marked the occasion by wearing a tie.
Alexis Tsipras often joked that he would start wearing a tie once debt relief was in place. And he told supporters he would honour that promise. But it didn't last long.
Tsipras said he had always fought battles without a tie and the Greek people have many more fights ahead of them.
''We won a battle, not the war,'' he told supporters on Friday evening as he took off his tie.
Greece has received three bailouts since 2010.
On Friday eurozone finance ministers offered Greece a 10-year extension on repayment of loans linked to the European Financial Stability Facility, as well as 15 billion euros in new credit.
Greeks have seen their economy shrink by a quarter, unemployment spike and salaries and pensions slashed by about 40 per cent since first falling into crisis in 2010.