Migrant rescue vessel Aquarius sets sail from Valencia
Comments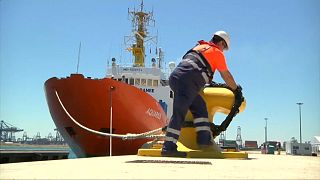 The charity-run ship Aquarius set sail from the Spanish port of Valencia on Wednesday to resume its role of searching and rescuing migrants in danger at sea.
In spite of all the recent controversy, the crew are determined to carry on.
"The mission of SOS Mediterranee is to continue being at sea as long as there is a need with the Aquarius, we will be there," SOS Mediterranee search coordinator, Nicola Stalla, told reporters.
The Aquarius brought migrants to Valencia after being refused permission to dock in Malta and Italy, reigniting arguments over how to deal with migration to Europe.
Spanish Prime Minister Pedro Sanchez finally offered to take in the ship, meaning it had to travel an extra 700 nautical miles after plucking the migrants from unstable boats off the coast of Libya.
"We leave it to the politicians to take their responsibilities, said Dr. Taloys Vimard of Doctors Without Borders. "We believe that this whole story highlighted that politicians did not fulfill their responsibilities and even breached the law, the international maritime law."
Aid organisations are calling on European governments to put politics aside and reach a common agreement on migrants.