Spanish students relocated to make room for Aquarius migrants
Comments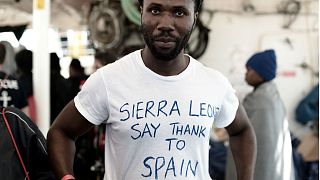 Copyright

Kenny Karpov/SOS Mediterranee/Handout via Reuters
Around 20 students were relocated from their publicly-owned residence in Alicante, Spain, to make way for the arrival of migrants from the Aquarius rescue ship, according to a spokesperson for the dorm.
Previous reports suggested that the students were evicted from the La Florida accommodation but the establishment told Euronews that they had been relocated to another building.
They added that Valencia's local authority "took care of all the expenses and the students have not had to pay anything for the move".
"We have gone, but for a good cause," said one former resident at La Florida on Twitter.
La Florida residence is part of a network of facilities on standby to be used in emergency situations — and the arrival of the Aquarius fleet with 630 migrants on board was declared one such instance by the council.
Valencia's local authority did not, however, confirm if the shelter was being used for the reception of migrants that were travelling in the Aquarius fleet, in accordance with Red Cross guidelines.
Pedro Sanchez, Spain's newly appointed prime minister, agreed to take in passengers of the rescue ship after a political standoff between Italy and Malta, who refused to let the ship dock.