Stephen Hawking's voice will be broadcast into space
Comments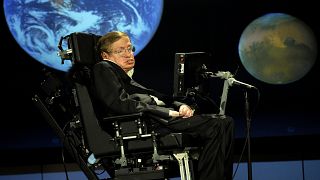 The voice of world renowned physicist Stephen Hawking will be broadcast into space after his memorial service takes place later today.
Hawking died in March this year after a lengthy battle with motor neurone disease and revolutionised the scientific understanding of black holes.
The professor's ashes are being interred in London, at Westminster Abbey with a thousand members of the public (selected through a lottery system) present for the ceremony.
A specially-written composition featuring Hawking's famous synthesised voice will be beamed into space by the European Space Agency satellite dish at Ceberos in Spain. The late scientist's words "have been set to an original score by composer Vangelis, most famous for his Chariots of Fire film theme".
Hawking's daughter, Lucy, called the music a "beautiful and symbolic gesture that creates a link between our father's presence on this planet, his wish to go into space and his explorations of the universe in his mind."
She said, "The broadcast will be beamed towards the nearest black hole, 1A 0620-00, which lives in a binary system with a fairly ordinary orange dwarf star. It is a message of peace and hope, about unity and the need for us to live together in harmony on this planet."
One thousand members of the public, from more than 100 countries, hwere offered the opportunity to attend the thanksgiving service, after a ballot attracted 25,000 applications for tickets.
The physicist's remains will be placed between those of scientists Sir Isaac Newton and Charles Darwin.
Hawking, who had a long term debilitating neurological disease, lost his ability to speak with his own vocal cords decades ago. He spoke with the assistance of a computer — and his computerised voice became distinctive and instantly recognisable.
The author of the iconic bestseller "A Brief History of Time", died on March 14 at the age of 76.