Moscow basks in the glow of footie fever
Comments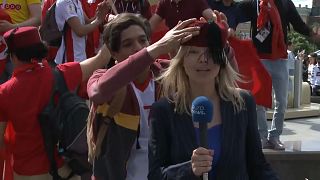 World cup frenzy is at fever pitch with the Russian capital Moscow awash with foreign fans and the flags of the competing nations.
Euronews has been out on the streets of Moscow, meeting fans and gathering predictions about who will win.
"Oh! Colombia! The best, we have the hope that this is our year," said one fan from South America.
Vladimir came to Moscow from Siberia, and he plans to go to all 11 host cities, a round trip of nearly 2,900 kilometres.
"I came to support the Russian team, even though many are very skeptical about our chances to win first or second place, but I think that we can get that far," he says confidently.
For many these 32 days are the journey of a lifetime , and it starts right now.
"It was a long way to come here, we were saving money for about a year to come here and to get the tickets. It was one of the hardest parts, like because of the different time zones we were spending all night long waiting in the queue at FIFA, so we are very excited," says one young Mexican woman.
The singing in public started well before the kick-off.
"More than 1,5 million fans will come to Russia for the World Cup, and now in Moscow, we can hear the bets on who will be the winner in almost all the languages of the world," reports euronews' Galina Polonskaya.