Hundreds of tons of dead herring wash up on Russian coast
Comments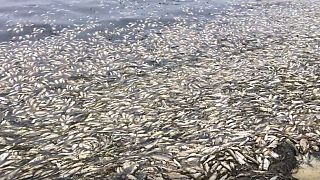 Thousands of Pacific herring fish have mysteriously washed up dead along the coast of the Piltun Bay in northeastern Sakhalin, Russia.
Sakhalin Environment Watch conducted measurements along a 30 km stretch of coast, starting at the mouth of the River Kadylaniy — the pipeline outlet of Project Sakhalin-I, used for oil and gas production, run by Exxon — to the lake Krivun. The group found dead herring of all sizes and ages at 28 different points.
Since 2003, six of the world's 10 record-setting extended reach drilling wells have been drilled on the site of Sakhalin-I.
Each of these areas measures 10 metres long and wide. The most major point of dead herrings lies near the mouth of the River Khalichikova in an area covering 440 square metres and a width of about 30 cm, equalling approximately 93 tons of fish.
Original reports began coming from local residents on June 7, Sakhalin Environment Watch reported, by which time the Okhinsky Department of the Sakhalin-Kuril Territorial Management was on its way to investigate. Samples were taken but no comprehensive investigation or analysis was conducted.
Sakhalin Environment Watch has taken samples that will be sent to Moscow for analysis, the transport and funding of which is aided by Greenpeace Russia. The total mass of area of death and its causes have not yet been assessed.
The environmental group also reported that it's possible the entire population of herring in the area of Piltun Bay has been wiped out. 
Environmentalists are concerned that the Federal Agency for Fishery has not made sufficient efforts to investigate the tragedy. According to Sakhalin Environment Watch, the agency still hasn't driven out to record the incident, and their website remains empty of the news.
"That's why we went to the media. We hope that at least with the help of publicity we will be able to encourage state bodies to take action," head of Sakhalin Environment Watch Dmitry Lisitsyn told Earth Chronicles.