Georgia's Prime Minister Giorgi Kvirikashvili resigns
Comments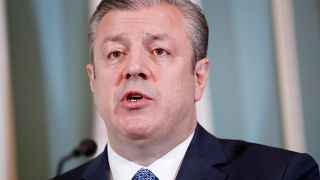 The Republic of Georgia's Prime Minister Giorgi Kvirikashvili, 50, resigned Wednesday amid a disagreement with Bidzina Ivanishvili, leader of the ruling Georgian Dream party.
"Different points of view have been outlined between me and the ruling team, specifically concerning the economic policy pursued by the government under my leadership," said Kvirikashvili at a special briefing held at the government administration on Wednesday.
" I would like to emphasize that in recent months my opinion differed from the party chairman's opinion on a number of fundamental issues," he added. "I think this is the moment now when the leader of the party should be given an opportunity to form a new cabinet."
Ivanishvili, former prime minister and the country's richest man, resurfaced in politics in May when he became leader of the Georgian Dream party. 
Kvirikashvili's entire cabinet is required to vacate their posts upon the prime minister's resignation, as dictated by the Georgian constitution. This means the ruling party, Georgian Dream, will now draft a list of new cabinet members within seven days. 
Resignation follows a string of protests
A wave of anti-government rallies started on May 31 as a protest against the guilty verdict of two young men suspected of killing two teenagers in December. One of the protest leaders, Zaza Saralidze, and supporters have been demanding the government's resignation, saying the people that were actually responsible for the murder escaped punishment because their relatives worked in the Prosecutor-General's Office.
Dozens of anti-government protesters were arrested on Monday for "hooliganism and acts of disobedience."
Earlier in May, thousands of protesters gathered outside parliament in Tbilisi demanding the prime minister's resignation following a violent police raid of techno music nightclubs Bassiani and Cafe Gallery, whose owners were allegedly beaten and taken to an undisclosed location and 60 visitors at Bassiani were beaten and arrested. 
The raids occurred on the grounds that the nightclubs were responsible for recent drug-related deaths in Tbilisi. Georgia's minister of internal affairs, Giorgi Gakharia, later apologised to the protesters for the raids.