2018 FIFA WORLD CUP: Technology and security centre stage
Comments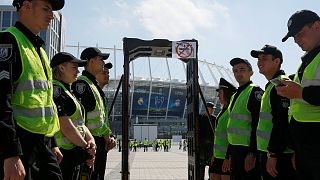 In December 2010, FIFA chose Russia to host the 2018 World Cup. In this latest Euronews special preview, we look at technology and security, which will play a key role in this World Cup. The so-called video assistant referee (VAR) will be used for the first time in such a major football tournament.
The 2018 World Cup tournament will involve 32 national teams, playing at 12 venues in 11 cities, with a total of 64 matches. Cities like Moscow, St. Petersburg and Kazan will be crowded with fans from all over the world. According to the Association of Tour Operators of Russia, some 400,000 foreign fans are expected to visit Russia for the World Cup tournament.
In view of such a major event, Russian authorities and FIFA have put into place a series of measures needed to ensure the safety of the supporters and visitors. Russia's Government has implemented rigorous anti-terror measures, including a total ban on planes and 'flying devices', such as drones, around World Cup stadiums. There are also strict restrictions on the sale and consumption of alcohol in venue cities, before and after matches.
FIFA President Gianni Infantino told Euronews that all fans will be welcomed to Russia, but safety is paramount and troublemakers will not be tolerated. ''Every fan that is coming to Russia will be welcomed in a safe environment to celebrate. If anyone is thinking of going to Russia to create trouble, then they better stay home,'' he added.
In order to enter a stadium, spectators will have to have a so-called Fan ID card, a special document needed for this 2018 World Cup Tournament. Even Russian residents will need one in order to enter a stadium.
VIDEO ASSISTANT REFEREE
The video assistant referee marks a new chapter in the history of the World Cup. Whilst there are those who argue that this system may slow down the game, others, like renowned former Italian referee **Pierluigi Collina, **think that VAR will avoid controversial decisions that can influence the result of a match.
Collina, who has refereed many top international matches including the 2002 World Cup final between Brazil and Germany, understands skepticism by some, but thinks VAR is a good thing. ''It is normal before you start using something that is new and not well-known by many, it's normal that someone could be skeptical about this. What we can say to these people is that the goal is clear: VAR can avoid big mistakes to be committed,'' he said.
And how does it work? A video assistant referee team supports the match officials during all 64 matches. The VAR team has access to all relevant broadcast cameras and two dedicated offside cameras. The team consists of the video assistant referee and his three assistant video assistant referees. All video assistant referee team members are top FIFA match officials.
Four replay operators will select and provide the best camera angles. Two of them pre-select the most likely camera angles, while the other two provide the final angles chosen for each checked or reviewed incident.
The VAR team does not make any decisions; it supports the referee in the decision-making process and the final decision can only be taken by the referee. Football fans will be informed about the review process by broadcasters, commentators and infotainment.
In a few hours, the match between Russia and Saudi Arabia will mark the beginning of the tournament. Stay tuned to Euronews and euronews.com in order to stay informed about everything that happens on and off the pitch.