Hungary and Slovakia back tough stance on migrants
Comments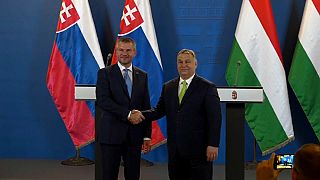 The leaders of Hungary and Slovakia have backed Italy's decision to refuse entry to more than 600 people rescued in the Mediterranean at the weekend.
Hungarian Prime Minister Viktor Orban, who is known for his fiercely anti-immigrant rhetoric, welcomed the move.
"When I first heard about it there was a sigh and I said: 'Finally!' I tell you, honestly, it was so depressing to continually hear for years that we cannot protect our maritime borders, that one practically lost the will to live."
The visiting Slovak Prime Minister agreed.
"Everybody jumps in the water, our people catch them, fish them out of the water and automatically they are basically ferried into the European Union. I don't believe that this is complex border defence."
Orban is a friend of Matteo Salvini, Italy's hardline new Interior Minister who won office with a pledge to crack down on migrants entering the country.
The current standoff in the Mediterranean has exposed Europe's deep divisions over migration as countries take sides on the fate of the 629 people on board the rescue ship.