Evaluating the Trump-Kim Singapore summit
Comments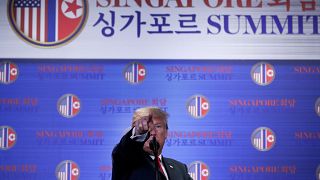 Donald Trump, who calls himself the ultimate deal maker, said he would not be played by North Korean leader Kim Jong-un.
"All the hard work of actually negotiating the details, all of that has been pushed until later"

International Crisis Group
But the ink was barely dry on their joint statement before debate began on who gave up what - and by how much.
The big talking point was Trump's surprise announcement that he would suspend America's long-running military exercises with South Korea.
Trump called the war games expensive and "provocative" - echoing the language North Korea has used for years.
"I want to get our soldiers out. I want to bring our soldiers back home," Trump said at a press conference after his Singapore meeting with Kim. "We have, right now, 32,000 soldiers in South Korea and I'd like to be able to bring them back home, but that's not part of the equation right now. At some point I hope it will be, but not right now. We will be stopping the war games which will save us a tremendous amount of money."
Although Trump was quick to declare the summit a success, many analysts said Pyongyang had been let off the hook and that Trump had given away substantial leverage.
Michael Kovrig is a Senior Adviser for North East Asia with the International Crisis Group:
"All the hard work of actually negotiating the details, the same kinds of details that have made previous agreements with North Korea fail, all of that has been pushed until later for Secretary of State Mike Pompeo and his North Korean counterparts to work out. And it's not clear how any of that is going to happen."
As he headed back to Washington, Trump dismissed the concerns, saying he believed North Korea would move immediately on steps towards denuclearisation.