Escaped Belfast Zoo monkey dies after being clipped by a car
Comments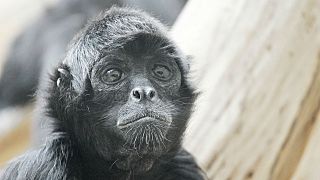 A male spider monkey that was pictured roaming along a Belfast road after escaping on Saturday died later that evening.
The animal got out of its enclosure at Belfast Zoo and was clipped by a car on the M2 in north Belfast, according to reports.
Keepers, who had been tracking the monkey, took it back to the zoo where it died shortly after.
Video emerged on social media of the animal at a bus stop:
Deborah McCann, whose partner Darren took the video, told the Belfast Telegraph news of the monkey's death was "so sad".
"I uploaded it for a laugh, it is not every day you see a monkey on the road. My partner felt awful when we found out he had died," she added.
McCann also said that her partner and brother, who were in the car when the video was shot, contacted the zoo immediately but received no answer so reported the incident to police.
A spokesperson for Belfast City Council said: "We are currently investigating how the escape occurred from the monkey island on which the animals are kept."
"This is the first time this has happened. It's a relatively new monkey being introduced. We are still investigating how he escaped as there is a moat around the island," they added.