One U.S. soldier killed, four wounded in Somalia operation
Comments
By Alice Tidey & REUTERS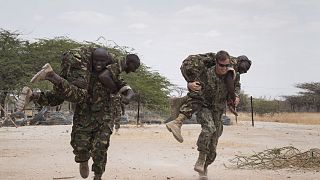 One American soldier was killed and four others were wounded on Friday during an operation in Somalia against al-Shabaab militants, U.S. authorities confirmed.
The U.S. soldiers were conducting a multi-day operation alongside 800 forces from the Somali National Security Forces and the Kenyan Defense Forces to liberate areas under the control of jihadists from the al-Shabaab group.
The combined force "came under mortar and small-arms fire at approximately 2:45 p.m. Mogadishu time, killing one U.S. service member and injuring four other U.S. service members and one partner force member," a statement from the U.S. Africa Command said.
The U.S. troops were there to provide advice, assistance and aerial surveillance, the statement explained.
U.S. President Donald Trump expressed his condolences to the family of the deceased soldier in a tweet.
Al-Shabaab is fighting to overthrow Somalia's central government and establish its own rule based on its interpretation of Islamic law.
Since being pushed out of Mogadishu in 2011, the group has lost control of most of Somalia's cities and towns, but it retains a strong presence in regions outside the capital.