Bucharest Gay Pride celebrates EU residency ruling
Comments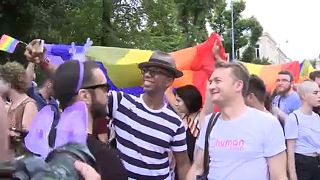 More than 5000 revellers took part in the Bucharest Gay Pride in the Romanian captial on Saturday.
The theme for this year's event was for more rights and acceptance.
The star of this year's show was a Romanian who mounted a successful challenge over his country's refusal to give his American husband residency.
Adrian Coman said he was relieved by the European Court of Justice ruling on Tuesday that said Romania must grant his husband, Claibourne Hamilton, residency rights even though it does not recognise same-sex marriage.
"I'm finally very happy that we're together," Coman said. 
"Yesterday we celebrated sixteen years together and today we have an other opportunity for more celebration with so many people around us."
The ruling highlighted growing tensions between the bloc's western countries and some of its newer, more socially conservative member states.
Anti LGBT protesters gathered in the capital for a so called "Normality march".
One priest who took part in this march, said: "Romanian people are Christian Orthodox. They should act accordingly. We are not a country of homosexu als, Sodom or Gomorrah."
The opposition rally called for a referendum to define marriage as a union between a man and a woman.