Argentinians unhappy with country's new IMF deal
Comments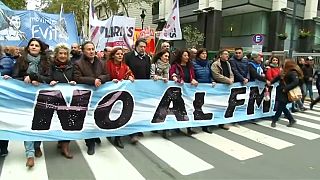 Argentinians march through Buenos Aires, protesting against the country's new deal with the International Monetary Fund to receive up to €42 billion.
President Mauricio Macri's country reached out to the "safety net" of IMF last month after its peso currency hit an all-time low.
In return, Argentina has agreed to tackle its double-digit inflation and public spending.
The nation's economy has struggled ever since a devastating economic crisis in 2001/02 and Argentinians blame this on IMF-imposed austerity measures.
As part of the agreement, Argentina will reduce its fiscal deficit to 1.3% of gross domestic product in 2019, down from 2.2% previously, a statement from the president's office said. The government will also send a proposal to Congress to reform the central bank charter and strengthen its autonomy.
The IMF lender's board is expected to vote on the three-year agreement over the coming days in Washington.