Austrian Chancellor calls for reinforcement of EU border
Comments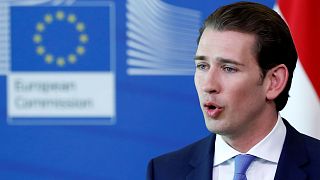 -
Austrian Chancellor Sebastian Kurz has said his right-wing government will focus on migration issues during its upcoming six-month presidency of the European Union.
Speaking after a meeting with European Commissioner Jean-Claud Juncker Kurz said one of his priorities would be strengthening EU borders.
"We have border controls because we were unable to properly manage migration because we were unable to prevent illegal migration because we did not protect the external borders," Kurz said.
"Now, during our presidency, we will do our very best to strengthen Frontex (the European Union's border agency) and bring about external border protection. People expect a European Union that protects, provides security, and offers order and stability," he added.
Immigration has become a hot-button issue for populist governments across Europe in recent years with Italy's new cabinet also calling for stricter controls.