Women take top jobs in Spain's cabinet
Comments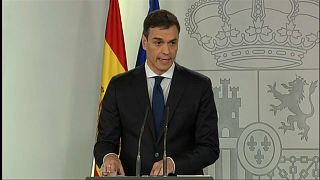 Spain's new Prime Minister Pedro Sanchez has named his cabinet, with women taking most of the top government jobs for the first time in the country's history.
Sanchez explained that it's also pro-European and won't give any concessions to independence movements.
"This is a decidedly Europeanist government. Europe is our new homeland, the space in which we must strengthen ourselves in order to provide effective responses to the challenges facing us as a country," he said.
"The new Government was born with the aim of serving the modernisation of Spain to boost its growth, to do so in a sustainable manner to rebuild the social and territorial cohesion damaged during these years and to regenerate public life in our country."
The new government is made up of 11 women and 6 men, the highest proportion anywhere in Europe.
Among them is Carmen Calvo who become Deputy-Prime Minister. Calvo is a Socialist who will become head of a reinstated equality ministry.
Of the men, Josep Borrell, a Catalan-born former President of the European Parliament, will be foreign minister. He is pro-Europe and against Catalonian independence.
Former astronaut Pedro Duque becomes Science Minister.