Soyuz spacecraft launches with next ISS commander onboard
Comments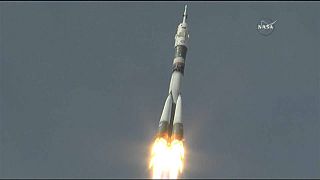 The Soyuz spacecraft has blasted into orbit carrying onboard the next International Space Station commander Alexander Gerst.
The 42-year-old German astronaut will carry out his mission as an engineer before taking over command of the space station from the US's Andrew Feustel in October. He will become only be the second European to hold the position after Belgian Frank de Winne in 2009.
Also onboard were Russian Sergei Prokopyev and the US's Serena Auñón-Chancellor, they are expected to reach the ISS on Friday. 
There was a palpable sense of pride in Berlin as Alexander Gerst blasted off into orbit after an almost perfect launch. As commander Gerst will have an extra raft of responsibilities.
"The commander is the person who is responsible for all the members functioning as a single team. It's not a matter of taking decisions or giving orders but to make sure that everyone works perfectly well with another. There's just one case where the commander will have an important immediate responsibility - let's hope this case never happens - it is when there is an emergency aboard the ISS. Alexanders's ultimate responsibility is to ensure the safety of the crew in that type of situation," explained Samantha Cristoforetti an Italian astronaut with the European Space Agency,