World Cup fever breaks out on the International Space Station
Comments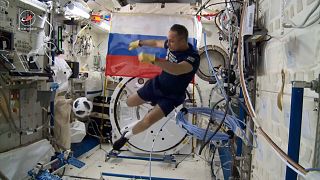 World Cup fever has broken out in space. Russian cosmonauts on the International Space Station have had an official 2018 FIFA World Cup football delivered to them from the Soyuz MS-08 spacecraft.....and have been making the most of it.
Anton Shkaplerov and Oleg Artemyev played an improvised match in zero gravity, allowing them to tumble and float around the capsule, and coming as close as they are ever likely to get to playing like Gareth Bale or Messi.
The World Cup kicks off in two weeks with the opening match in the Russian capital Moscow. It may even be visible from space.