Djokovic casts doubt over Wimbledon
Comments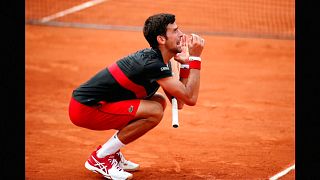 Former world number one Novak Djokovic has cast doubt over whether he will play at next month's Wimbledon tournament after his shock defeat to the unseeded Marco Cecchinato at the French Open.
The Serb, three-times a Wimbledon champion, appeared distraught after his quarter-final defeat by the unseeded Italian.
And said his appearance at Wimbledon was in doubt.
"I don't know what I'm going to do, I really don't know," he told reporters at a post-match press conference. "I just came from the court, I don't know. Sorry guys, I cannot give you that answer. I don't know, I can't give you any answer."
Djokovic, who came to Paris with his lowest seeding since 2006 after a difficult past 12 months with an elbow injury, had begun to look like his old self at Roland Garros.
But he refused to blame any physical problems for his defeat. and said Cecchinato had played an amazing game.