Andrej Babiš appointed as Czech PM
Comments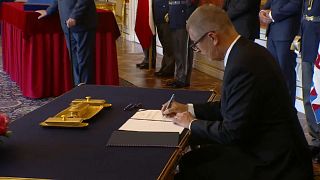 Andrej Babiš has been appointed prime minister of the Czech Republic for the second time, six months after the general elections in which his ANO party won by a large margin.
Billionaire businessman Babiš took the oath of office but still has no guarantees about being able to form a viable coalition.
An alliance of his ANO Party and the Social Democrats would be subject to a referendum of the Social Democratic Party which won't be known until mid-June.
Over the past few months Babiš has also had to make several concessions to other parties such as giving a generous share of ministerial posts to the Social Democrats and accepting the terms of the Communist Party.
Meanwhile, on Tuesday thousands of Czechs across the country protested against Babiš.
The biggest demonstration was in Wenceslas Square in Prague, where people heard speeches and songs criticising and mocking Babiš over his former membership of the Communist Party.
The ANO Party and the Social Democrats will only have 93 votes in the 200 seat lower assembly and will need the support of the Communists in order to get legislation passed.