UK gov't green lights third runway at Heathrow airport
Comments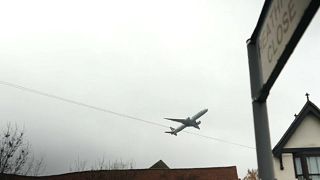 After two decades of fierce opposition, the British government has given the green light to a controversial new third runway at London's Heathrow airport.
It will be the first full-length runway to be built in the London area in 70 years.
Opponents says the new runway breaches the UK's legal limit on air pollution and will increase noise pollution with an extra 700 planes a day.
Transport secretary Chris Grayling disagrees. He says the expansion will allow Britain to keep pace with other international economies.
"The time for action is now Heathrow is already full and the evidence shows the remaining London airports are not far behind," he says. "Despite being the busiest two runway airport in the world. Heathrow's capacity constraints mean it is falling behind its global competitors, impacting the UK economy and global trading opportunities."
Heathrow is Europe's busiest airport.
It's hoped the third runway will be operational between 2025 and 2030 and will increase the airport's capacity from over 85 million to 130 million passengers per year.