Funeral held for youngest Liege terror victim
Comments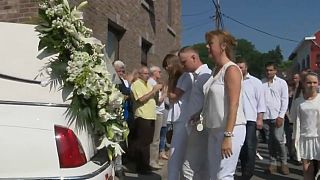 Friends and family gathered for the funeral of Cyril Vangriecken, the 22-year-old who was shot dead in last week's 'terror attack' in Liege.
His family had requested mourners dress in white while others carried petanque balls in tribute to the young student who had been a good player.
Vangriecken was the youngest of three victims. He died as he sat in the passenger seat of a parked car.
Two policewomen were also killed by gunman Benjamin Herman who was shot dead by police.