An early painting by Vincent Van Gogh has sold for more than € 7m
Comments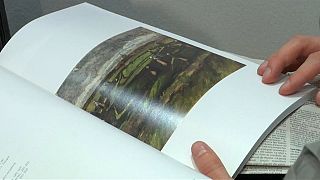 An early landscape painting by Vincent Van Gogh has sold for more than € 7m at an auction in Paris.
The "Women Mending Nets in the Dunes" was bought by an American collector.
A bidding war pushed the price above its estimate of € 3m-€ 5m.
The painting's the first Van Gogh to be auctioned in France for more than 20 years.
The Auctioneer says the price was boosted by the fact that most of the Dutch impressionist's works are now in museums.
On average only two or three works appear on the international market each year.
Auctioneer at Auction House Artcurial, Francis Briest says, "You have to bear in mind that there are hardly any Van Goghs left on the market, that they're only left in foundations or museums and so the buyers are ready to pay and to overpay for a work of this quality and importance."
The work of art was painted in 1882, and it was inspired by the countryside around The Hague.
It contains many elements that were characteristic in Van Gogh's paintings including heavy skies and crows.
It's the first Van Gogh painting to go under the hammer in 20 years.